Biography & Resume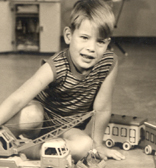 My personal biography offers you an idea of who I am.
You may also be interested in my professional biography and my résumé.
My short professional biography describes what I am as a professional.
The curriculum vitae lists my education, experiences and activities.
Below you find a true story of who I am.
---
Optimistic and energetic
I'm almost always happy and optimistic. Usually I have a lot of energy. I feel best when I have the sense that things are progressing smoothly. The idea of achieving something that is meaningful stimulates me. Of course there are things I can enjoy directly: reading a book, eating together with friends, nature walks, mountain hikes and laughing with the children. I really enjoy the Requiem by Fauré, the songs of Marc Almond as well as the dance music of VNV Nation or Scuba. Swimming and the occasional run keep me fit. It motivates me when I can contribute to innovation and development. That goes for myself, for others and for organizations.
Education
My mother is still alive and my father died not so long ago. They had been together for over 70 years. It is quite difficult for my mother now after being together for so long. I was with her recently in Barcelona, which she greatly enjoyed. I look back with great appreciation on my upbringing. There was always room for a personal opinions, in fact that was asked for. Respect for people and trust in human development are definitely results of my upbringing. Likewise a sense of justice, and for instance the idea that you able to influence your own life and that you can change undesirable situations by taking initiatives and becoming active. These values have supported me in being active in the student union, the gay movement and my neighborhood association.
Study
My study started in Leiden: occupational and organizational psychology with attention to organizational development and informatics. I enjoyed this interesting course mainly because there was plenty of space for project work. You collaborated with a group of students to study interesting topics that fascinated you. One research project was in close collaboration with the labor unions when we studied the safety policy of a chemical company. My first publications deal with this research. My thesis focused on the question why people become active in social movements.
Professional career
My paid career started at the University of Leiden, at least … if you don't count my experiences as a warehouse clerk, press photographer, geriatric nurse and forklift driver. I worked with pleasure at Leiden University for over twelve years, first as a project assistant and later as assistant professor. In that time I learned a lot, especially by doing research on change processes in organizations. This was also the subject of my doctoral dissertation. In 1991 I received my doctorate based on research on complex changes at Aegon Insurance and Dutch Telecom. In 1992 I moved to the University of Amsterdam to become an associate professor. It seemed attractive to me to share knowledge and inspire the faculty of organization and management research and also to lead a group of teachers and researchers. During these years my perspective on the functioning and changing organizations broadened. This broader perspective fitted into the broader perspective of organization science and political science. Eight years later I was appointed as full professor in Change management within organizations. In 2000 the rector asked me to become involved with Sioo, an inter-university center for organizational change and learning. There I learned a lot about designing learning programs for professionals and executives. Two year later I was appointed as the Dean of this center. It was a honor and a very special experience to be director of a renowned institution that had already existed for over forty years and has contributed to advancement and pride of the Netherlands and of Dutch companies. I gave me a great deal of pleasure to fulfill this leading role. After 12 years working at Sioo, including 9 years as Dean, I felt a need for a change. The goals I had set myself were realized and I wanted to feel the heat again of dynamics and change in organizations. In 2011 I started Jaap Boonstra & Associates and from that time I have been available as an independent consultant to support people in companies to realize strategic, organizational and cultural changes.
Learning from other cultures
I love traveling, meeting people and experiencing new cultures. Looking with an open mind helps me to understand my own culture and where I come from. These travels through new landscapes contribute to my being, help me in my meaning and stimulates engaging. I have enjoyed the beauty and cultures of all continents and learned a lot from people living and working together in circumstances different to those I was familiar with. In 1980 I visited Barcelona for the first time and fell in love immediately with this vibrant city beside the sea with her rich history and her culture of freedom and engagement. It was serendipity when I was invited to teach at Esade Business School in Barcelona some years later. It is still a pleasure to share knowledge and experiences at Esade Business School with young international students and experienced executives.
Alchemist
Sometimes I feel like an alchemist. In the book 'The Alchemist' by Paulo Coelho The Alchemist says to the shepherd Santiago:
"Remember that wherever your heart is, there you will find your treasure. And, when you want something, all the universe conspires in helping you to achieve it."
According to the stories an alchemist should be able to change something into something special. Alchemy is simultaneously a philosophy and a science in which different disciplines come together. According to tradition alchemists were looking for the philosopher's stone, not to make gold but to contribute to wisdom. This image of the Alchemist inspires me to become a person who in his quest for wisdom is willing to explore and able to bring different perspectives together and gain new perspectives.
Researcher
Actually I am extremely curious. I do not know everything, but I would like to discover new things. I am intrigued how things go, as so beautifully depicted in the video "Der Lauf der Dinge" by Peter Fischli and David Weiss. The most strategic book that I know is "Le petit prince" by Antoine de Saint-Exupery. The little prince is looking for the source of life so he can save his planet. In his quest, he is curious and open-minded in his approach to the people and animals he meets. For me, the core of research is to understand the secrets of our world by being curious and open-minded about new perspectives. As a researcher, I aim for these values and they guide me in my daily work. I realize how difficult it is to refrain from passing judgment and that there is still much to learn. My personal development and my professional activities are characterized by an inquisitive attitude. My research is both a matter of discovering what is going on and bringing all kinds of people together in dialogue to learn and explore the possibilities around us.
Pleasures
Most of my time I live in Amsterdam, like Frank and many of my friends. I enjoy living together with Frank and having all kinds of adventures with my friends. From my two children I learn all about life in the city, social media and what is cool or not. As long as there is something to be discovered, then I'm happy. I love literature and film, art and music, nature and culture. And there is plenty of this in Amsterdam as well as in Barcelona, another city I like to be part of.
My great love
I have lived together with Frank since the beginning of my studies in 1976. We support and challenge each other and we have lots of fun. During the week we don't get to see each other every day and enjoy each other's company, and it is more difficult to manage to eat together.  We are both quite busy with work, various activities and other friends. For the rest, we do enjoy many things together, like socializing with friends, cycling, hiking, nightlife, art and culture. Every year we go hiking and do a bit of climbing in the mountains in the summer. It is lovely to be way up in the mountains for e few weeks, together in the most beautiful nature and with hardly any other people around. And at the end of the day we put up our tent on the edge of a lake or a stream, prepare some food and look at the sun set over the mountains. In the winter we travel to other countries usually somewhere with a bit of sun, or we stay in Barcelona and relax.
Children
Tjesse and Len are our children with Karleen and Marty, their mothers. Our children have two dads and two moms, as they say, and they're very proud. The mothers have known each other for years and raised the children together. At the moment Len is studying Medicine in Leuven in Belgium. Besides her studies, she is active in the European Youth Parliament. Tjesse lives in Amsterdam and is primarily occupied with his creativity, which he uses for discovery and development. Sometimes the six of us take a short holiday together. Tjesse visits regularly to have dinner with us and he loves to go out with his father for a ride on the motorcycle. Len likes to dine outside and go together to theater, dance or opera.
Friends
I see my friends regularly. With Orell it is great to have dinner together and see modern dance and theater. Barcelona is our favorite city. Erik is always relaxed and we understand each other without words. We regularly go together on adventure in cities like London, Berlin, Rotterdam, Barcelona, The Hague and Madrid. Jos is a friend I have known since I started living in Amsterdam. We have interesting conversations about the local government (and about love of course, what else). Greo is one of my best friends and I have known him for many years as well. We met in an underground discotheque and since that moment we inspire each other when it comes to imagination. Kilian is a good friend and a wonderful colleague to work with.
Amsterdam and Barcelona
Amsterdam is a wonderful and pleasant city, with many opportunities for living, working, playing and learning. I especially enjoy modern dance and concerts in the Concertgebouw as well as in music halls like Paradiso and the Melkweg. I regularly go to a movie and sometimes to an opera. And who knows a nicer swimming pool than the Zuiderbad? Meanwhile I enjoy having an apartment in Barcelona, the second city I love so much. I have become very relaxed with this Catalan beauty. The first love never disappears. It is fantastic to live in Barcelona and feel inspiration in writing new articles and books.