Leadership Excellence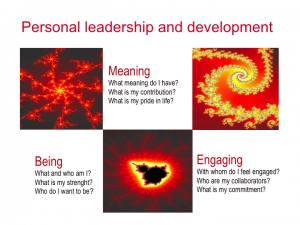 Leaders are people who want to make a difference and are willing to stick their neck out to initiate innovations and contribute to sustainable change in organizations. Everybody can be a leader as long as you take initiative and are willing to change yourself.
Transformational leaders
Leaders in transformational change formulate a challenging vision and are able to motivate others with it. In order to achieve deep change, they form vital coalitions of people who want to play a leading role in that vision. Authentic leaders are aware of developments in their surroundings and they know what is happening in the organization. They know themselves and study others in depth and use this awareness to direct the energy of the people in the organization. They are role models and give the right example themselves.
Meaningful leaders
Meaningful leaders are people who take initiatives in ambiguous situations. They interpret the situation and show the direction, offer a new perspective on the existing situation and the future. That is how they inspire others to join them on that course and realize the new future.
It gives me a lot of pleasure to contributie to leadership excellence of young professionals and experiences executives at Esade Business School, de the Dutch School for Public Administration, and Sioo, the Inter-university center for organizational change and learning in the Netherlands.
In the past years I have been involved in leadership development in a global operating chemical enterprise, an international oil company, an international bottler of drinks and refreshments, a Japanese concern for business and consumer electronics, a Dutch social housing company, the Dutch fire department, and the Dutch police force.
Apart from these in-company programs I am also engaged in several international executive programs:
Esade
Executive MBA
Global Executive MBA
Program for leadership Development
Program for Management Development
Sioo
Executive Change Management
Advanced Change Management
NSOB
Interdepartementale Management Leergang
Master of Public Administration