LeadershipLeidinggeven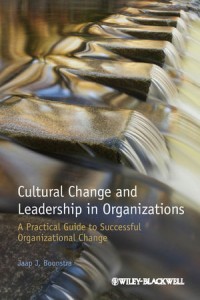 My most relevant publications on leadership are available here:
– Leadership in cultural change
– Cultural values and influence
My complete list of publications is available here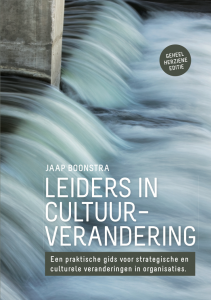 Mijn meest relevante publicaties over
leidinggeven kun je hier inzien en ophalen:
– Leidinggeven aan cultuurverandering
.
.
.
---
Voor het boek Leiders in Cultuurverandering zijn 16 case-studies beschreven. Deze praktijkbeschrijvingen over strategische en culturele vernieuwing in Nederlandse organisaties kun je bij de link hierboven inzien en ophalen. Deze beschrijvingen ervaar ik zelf als een bron van inspiratie en als prachtige verhalen hoe mensen in Nederlandse bedrijven de leiding nemen in diepgaande verandering van hun organisatie.
---
Meer artikelen over leiderschap kun je hieronder vinden. De volledige referenties vind je in de literatuurlijst.
– Strategies for cultural change in organizations – Concluding chapter Change strategies. (2013)
– Cultural change and leadership – Concluding chapter Leadership in cultural change. (2013)
– De betekenisvolle leider. (2013)
– Leiderschap in Crisis. Op zoek naar nieuwe wegen. (2011)
– Leiderschapsverkenningen. Een safari door de wereld van leiderschap. (2011)
– Leiding nemen in cultuurverandering. (2010)
– Leidinggeven in verandering. (2010)
– Ondernemen in allianties en netwerken. Een terreinverkenning. (2007)
– Samenwerken in allianties en netwerken. Spelen met paradoxen. (2007)
– Strategisch vernieuwen over de grenzen van de organisatie. (2005)
– Lijden, leren en leiden. Nieuwe eisen aan leiders. (2004)
– Beïnvloedingstactieken van managers in twaalf verschillende culturen. (2004)
– Rol van commissarissen in veranderingsprocessen. (2002)
– Lopen over water. Over de dynamiek van lerend veranderen in organisaties. (2000)
– Wie is aan zet? Invloed, leiderschap en verandering. (1998)
– Beïnvloedingsgedrag van vier groepen in veranderingsprocessen. (1997)
– Bezint eer gij begint: Managementdilemma's bij invoering van teamgericht werken. (1997)
– Strategisch management: perspectieven en methoden. (1995)