Inspirations
My sources of inspiration are hiking in the mountains, visiting other cultures, reading, writing and art such as modern dance, photography and architecture. These sources of inspiration can be found in my work as pictures in presentations and stories.
---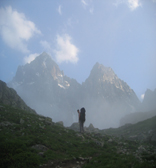 High Mountains
Every year I go into the mountains together with Frank or other friends. Hiking in the mountains gives me peace and time to reflect on what I'm doing. Walking keep me fit and furthermore I enjoy the scenery, the flowing streams and the feeling of the wind. The hard mountain trips that last several weeks are something I do with Frank, and we have been doing that for over thirty years. Norway is one of our favorite countries for walking. Iceland is beautiful too, and cold. So after a few Northern Europe hikes we go back to the French and Italian Alps. The Tour de Mont Blanc is beautiful and a classic walk. The Tour de Mont Viso is more peaceful and just as beautiful. The Pyrenees and Dolomites are impressive and rough. The Himalaya is a mountain range that appeals to me because of the local Tibetan culture. This picture was taken in the Dolomites.
---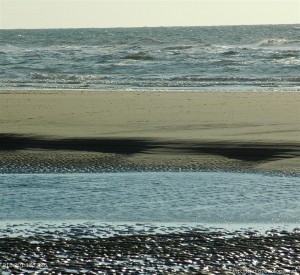 Sea
Besides walking in the mountains, I find it wonderful to be on a peaceful island and enjoy the sun, the sea and the sound of the sea, which is relaxing and reflective. The islands of Thailand with their nature, the environment and the clear waters are a source of peace. The position of Barcelona has a beautiful location and it is delicious that I just can walk to the sea when I'm in Barcelona. If you listen carefully, you will discover that the waves in Barcelona make a very different sound than in Zandvoort, the beach of Amsterdam. In the Netherlands I can enjoy the beach, the dunes, the forests in Hilversum, the Veluwe and heathland. It is great to cycle in the countryside just outside Amsterdam.
---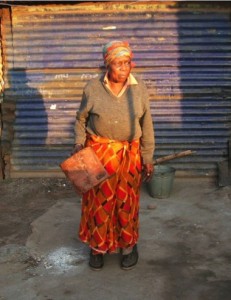 Other cultures
Other cultures teach me a lot and are a source of inspiration. The transformation and tensions in South Africa are extremely instructive, the developments in Cuba are very interesting and my experiences with emergency services after the Tsunami in Sri Lanka  were shocking.
Spain, or Catalonia to be more precise, is a source of inspiration for me. On the level of values  and ways of living I experience many similarities between the Netherlands and the area around Barcelona: democratic, progressive, committed, tolerant and open to other cultures. For me Barcelona itself is a bit different from Amsterdam. My times in Barcelona are calmer and more intense at the same time. It is a good to experience that Spain is still a young democracy and that people realize that there was a civil war and times of repression no so long ago. Many of my Spanish friends have lost family during that time. It makes me realize that freedom and democracy as we experience every day are not as self-evident as we my think.
---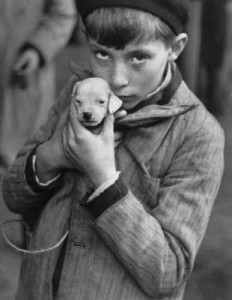 Photography
For me art, especially photography, opens up new perspectives. I have been interested  in photography since my teenage years. When I was fifteen and lived in Haarlem I did a lot of photography myself. I would regularly go by bikeI to the Stedelijk Museum in Amsterdam to visit photo exhibitions. The "Stedelijk" paid a lot of attention to photography at taht time. This museum opened again in 2013 after ten years of renovation. It is such a pleasure to go there and feel inspired by the building and the beautiful art of Chagall, Mondriaan, Picasso, Klee, Van Gogh and many others. And photography of course.
The photographs of André Kertész still make a deep impression on me. I often use them in presentations because his pictures are visual while giving also space for interpretation. Also Henri Cartier-Bresson canalso touch me deeply with his photography. His series "The inner silence of a willing victim" is intense and impressive. The documentary photography of the Magnum photographers portrays a harsh reality in beauty.
Contemporary Dutch photographers like Erwin Olav and Inez van Lamsweerde have their own interesting personal styles in portraying people. The picture here is by André Kertész.
---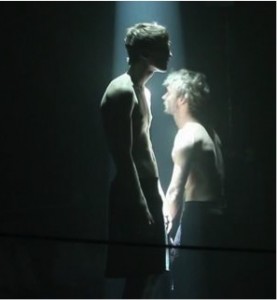 Modern dance
Modern dance expresses beauty for me. The beauty of beautiful bodies in motion. I have been going to modern dance regularly since my college days after seeing a performance of Dance group Kriztina de Chåtel. At that time it was an extremely innovative dance group. The quality of the Nederlands Dans Theater is amazing and this company is rightly famous. Among the most beautiful choreographies for me are and Simple Things and Monument for a Dead Boy by Hans van Manen. With both of them, I still feel shivers running down my spine when I see them. Symphony of Psalms by Jiri Kilian is impressive.
The most creative dance company in the Netherlands at the moment is undoubtedly Emio Greco | PC. It is an honor to be to be a member of the supervisory board of this modern dance group.
---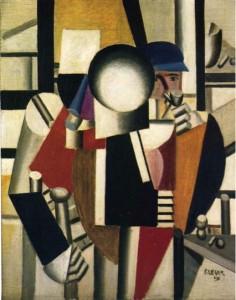 Painting
In the period that I visited the Stedelijk Museum I also came into contact with painting. In those early days I was very attracted to the paintings of Marc Chagall. I still don't know why, maybe because gaiety and sadness goes together in many of his paintings. The paintings of Max Ernst and Paul Klee made a big impression too. Later on I started to understand the work of Piet Mondriaan. There is an impressive collection of Mondriaan in the City Museum of The Hague, which is worth visiting. Pablo Picasso's Guernica hit me from the first moment. An exhibition of Fernand Léger in Berlin in the eighties impressed me deeply. The picture here is of the painting The Three Comrades by Fernand Léger.
One painting which has a lot of meaning for me meaningful painting for me is "Who's afraid of Red, Yellow and Blue" by Barnett Newman because this painting teaches me a lesson. It did take time before this painting gained some meaning for me. When I was fifteen, I regularly visited the Stedelijk Museum regularly to see photography exhibitions. This painting hung in the most honorable place of the museum, in the main hall and you inevitably had to look at it when you went up the stairs. I understood nothing of it and did not understand why this stupid painting deserved such a beautiful place. It was just a big red field with a yellow stripe and a blue stripe on the sides. Any child could make that. After eighteen months, I became a bit curious, because this stupid and weird painting was still there in such a beautiful place. At a certain moment I walked up to that picture, curious about its title. I remember I was standing about half a meter away from the painting when I read the title: "Who's afraid of Red, Yellow and Blue. A stupid title as well, I thought, until I looked up, half a meter in front of that giant canvas and the painting in front of me shouted all its colors at me and aroused fear and emotion. From that moment I understood the authenticity of this painting. This event has taught me to refrain from forming easy judgments and to start with an open mind and perceive, inquire and allow my senses to feel and understand. Much later, I read the statement by Barnett Newman: "Art is an adventure into an unknown world, which can only be explored by those willing to take the risks."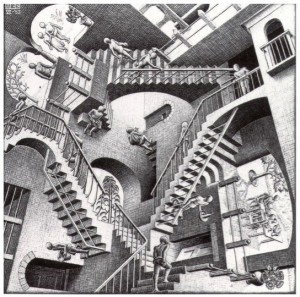 The graphic artist Escher has always appealed to me and still does. I know that as a boy of twelve I had bought a poster from my own savings and had stuck it on chipboard with wallpaper paste. It was the lithograph "Relativity". I'm actually still not sure why that graphic was so fascinating for me. I still use this lithograph in presentations as an image of a multiple reality. Other lithographs of Escher are intriguing as well, like Chaos or Meeting. For me "Chaos" represented for me the chaos theory whereby seemingly irrelevant objects create a new coherent reality. Meeting for me is about dealing with dilemmas.
Sometimes I visit the Escher Museum in The Hague with groups of executives and professionals and invite them to look at themselves through the lithographs which reflect the world of Escher, a different world to what they used to. In this way we create another learning experience with a lots of fun.
---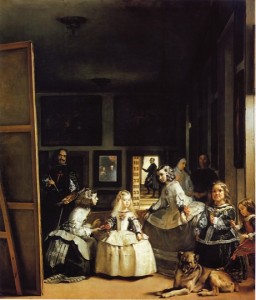 Spanish painters
Much later, when I was thirty years old and visiting Barcelona many times a year, I started to appreciate Spanish painters. Velázques is beautiful. The house of Joaquín Sorolla is a must for anyone going to Madrid. The Catalan painter Miró speaks to me through his simplicity. Picasso I understand a little better now and his interpretation of Las Meninas by Velásques is impressive because you never know who is looking at whom. You look at the painting as an observer, but maybe you are painted yourself. In more recent years, I have also been fascinated by the work of Antoni Tàpies. This artist has always had an eye for humanity, freedom and democracy. He experienced the importance of freedom personally, because in the Franco era he was in hiding for years and his paintings were banned. The Catalan desire for freedom is nowhere as powerfully as in the paintings and installations of Antoni Tàpies.
---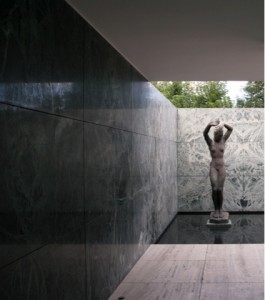 Architecture
I also enjoy modern architecture a lot.For me it it's especially a sense of beauty, light and space as in the Barcelona Pavilion by Mies van der Rohe or the architecture of Bauhaus architects and Dutch architects like Johan Duiker (Zonnestraal in Hilversum and Open air School in Amsterdam), Willem Marinus Dudok (Dudok House and Hoogovens IJmuiden), Gerrit Rietveld (Schröder House in Utrecht) and Aldo van Eyck, who built a beautiful house built on the Minerva Avenue in Amsterdam. Before the fall of the Berlin Wall, I went to Berlin regularly. I liked to visit the Bauhaus Museum there and the neighborhoods that were built by Bauhaus architects. Light, space and functionality are  combined beautifully in their designs.
When I look back on what appeals to me in all these places is the freedom, adventure, light and space.
---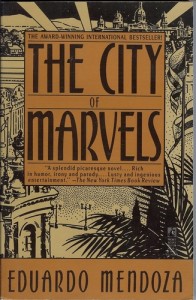 Literature
Literature and film meanly mean relaxation. I read mostly during holidays and I don't go to see that many films, although I really can enjoy the passion and emotion in movies. Literature and film are sometimes sources of inspiration because they invite me to look at reality with a different perspective. Sometimes they are a mirror to have a better look at yourself.
The 'City of Wonders' by the Catalan writer Eduardo Mendoza made a deep impression on me. I'm not sure why this book affected me, maybe because it's about Barcelona, a city that means a lot to me, maybe because it's about a crafty villager who amasses wealth and power, maybe because it's about day laborers, gangsters and politicians.
The 'Black with the White Heart' by Arthur Japin I also find beautiful and a source of inspiration when it comes to questions of identity, meaning and community. 'The Age of my Father' written by Geert Mak has taught me history about a period of industrialization and urbanization in Europe. 'The Office" by Voskuil is a must for anyone who works at a university, just like "Among Professors" by Willem Frederik Hermans. These books provide for reflection and a good laugh through the recognition of the university as a crazy institute.
'The Abyss'by Marguerite Yourcenar is a beautiful historical novel about Zeno, a physician, alchemist and philosopher at the beginning of the sixteenth century. The historical novels of Yourcenar can tempt me anyway. "One Hundred Years of Solitude" by Gabriel García Márquez and 'The Unbearable Lightness of Being" by Milan Kundera are also beautiful, like "Zen and the Art of Motorcycling by Robert Pirsig. More recently I read the books by Haruki Murakami. His book "Kafka on the Shore" is beautifully hilarious.
I can laugh with the books of Tom Lanoye, enjoy the lyrics of Oscar Wilde and the poems of Jean Cocteau and Hans Warren. Christopher Isherwood is a favorite from my youth and I read just about anything by him. His Berlin books appeal to me a lot. "The Swimming Pool Library" by Alan Hollinghurst is a beautiful and exciting story of a young gay with changing contacts who enters into friendship with an English lord. "A Heartbreaking Work of Staggering Genius" by Dave Eggers is intriguing and entertaining.
---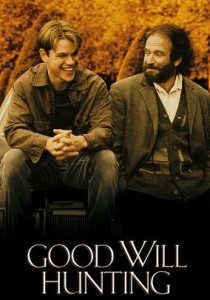 Movies
A film that I really remember is "Good Will Hunting" by Gus van Sant with Matt Damon in a beautiful role as tough kid and a wonderful role of Robin Williams as a psychotherapist. For me, this movie is about love and adventure and also about inner struggle and relating. Gus van Sant has made more beautiful films such as "My own private Idaho". This movie is about traveling as well. Wim Wenders makes beautiful films too. 'Der Himmel über Berlin is my favorite'.
Other significant films for me: "Being There" by Hal Ashby with a magnificent role of Peter Sellers as a gardener. "The Remains of the Day" by James Ivory with Anthony Hopkins as butler and "Death Poets Society'"by Peter Weir starring Robin Williams as an English professor who is engaged with his students and teaches them to find their own selves by teaching poetry. The film "Festen" by Thomas Vinterberg is a depressing and fascinating story of a family where many tensions remain subcutaneously until the son Christian start to discover past events and makes these publicly. The films of Jim Jarmusch can fascinate me as well. "Permanent Vacation" is clear in my mind, even though I saw that movie years ago. The film is about a boy in Manhattan. His father was never around and his mother is in the asylum. The boy wants to know more about life and the meaning of it. He discovers the meaning in life on his journey meeting many different people. "Stranger than Paradise" and "Down by Law" by Jim Jarmush are also exciting.
Classic movies, which have a lot to do with industrialization and urbanization, are "Metropolis" by Fritz Lang and "Modern Times" of Charlie Chaplin. I like to use both these films in lectures to illustrate the beginning of industrialization and urbanization.