InspirationsInspiraties
My sources of inspiration are hiking in the mountains, visiting other cultures, reading, writing and art such as modern dance, photography and architecture. These sources of inspiration can be found in my work as pictures in presentations and stories.
---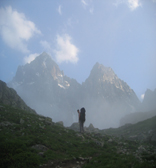 High Mountains
Every year I go into the mountains together with Frank or other friends. Hiking in the mountains gives me peace and time to reflect on what I'm doing. Walking keep me fit and furthermore I enjoy the scenery, the flowing streams and the feeling of the wind. The hard mountain trips that last several weeks are something I do with Frank, and we have been doing that for over thirty years. Norway is one of our favorite countries for walking. Iceland is beautiful too, and cold. So after a few Northern Europe hikes we go back to the French and Italian Alps. The Tour de Mont Blanc is beautiful and a classic walk. The Tour de Mont Viso is more peaceful and just as beautiful. The Pyrenees and Dolomites are impressive and rough. The Himalaya is a mountain range that appeals to me because of the local Tibetan culture. This picture was taken in the Dolomites.
---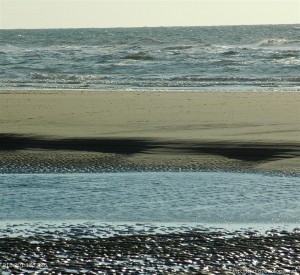 Sea
Besides walking in the mountains, I find it wonderful to be on a peaceful island and enjoy the sun, the sea and the sound of the sea, which is relaxing and reflective. The islands of Thailand with their nature, the environment and the clear waters are a source of peace. The position of Barcelona has a beautiful location and it is delicious that I just can walk to the sea when I'm in Barcelona. If you listen carefully, you will discover that the waves in Barcelona make a very different sound than in Zandvoort, the beach of Amsterdam. In the Netherlands I can enjoy the beach, the dunes, the forests in Hilversum, the Veluwe and heathland. It is great to cycle in the countryside just outside Amsterdam.
---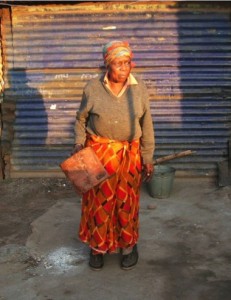 Other cultures
Other cultures teach me a lot and are a source of inspiration. The transformation and tensions in South Africa are extremely instructive, the developments in Cuba are very interesting and my experiences with emergency services after the Tsunami in Sri Lanka  were shocking.
Spain, or Catalonia to be more precise, is a source of inspiration for me. On the level of values  and ways of living I experience many similarities between the Netherlands and the area around Barcelona: democratic, progressive, committed, tolerant and open to other cultures. For me Barcelona itself is a bit different from Amsterdam. My times in Barcelona are calmer and more intense at the same time. It is a good to experience that Spain is still a young democracy and that people realize that there was a civil war and times of repression no so long ago. Many of my Spanish friends have lost family during that time. It makes me realize that freedom and democracy as we experience every day are not as self-evident as we my think.
---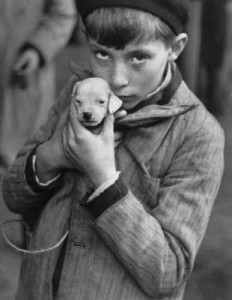 Photography
For me art, especially photography, opens up new perspectives. I have been interested  in photography since my teenage years. When I was fifteen and lived in Haarlem I did a lot of photography myself. I would regularly go by bikeI to the Stedelijk Museum in Amsterdam to visit photo exhibitions. The "Stedelijk" paid a lot of attention to photography at taht time. This museum opened again in 2013 after ten years of renovation. It is such a pleasure to go there and feel inspired by the building and the beautiful art of Chagall, Mondriaan, Picasso, Klee, Van Gogh and many others. And photography of course.
The photographs of André Kertész still make a deep impression on me. I often use them in presentations because his pictures are visual while giving also space for interpretation. Also Henri Cartier-Bresson canalso touch me deeply with his photography. His series "The inner silence of a willing victim" is intense and impressive. The documentary photography of the Magnum photographers portrays a harsh reality in beauty.
Contemporary Dutch photographers like Erwin Olav and Inez van Lamsweerde have their own interesting personal styles in portraying people. The picture here is by André Kertész.
---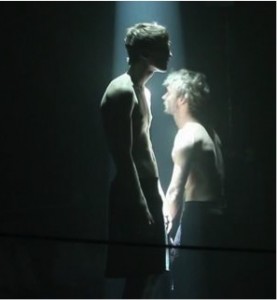 Modern dance
Modern dance expresses beauty for me. The beauty of beautiful bodies in motion. I have been going to modern dance regularly since my college days after seeing a performance of Dance group Kriztina de Chåtel. At that time it was an extremely innovative dance group. The quality of the Nederlands Dans Theater is amazing and this company is rightly famous. Among the most beautiful choreographies for me are and Simple Things and Monument for a Dead Boy by Hans van Manen. With both of them, I still feel shivers running down my spine when I see them. Symphony of Psalms by Jiri Kilian is impressive.
The most creative dance company in the Netherlands at the moment is undoubtedly Emio Greco | PC. It is an honor to be to be a member of the supervisory board of this modern dance group.
---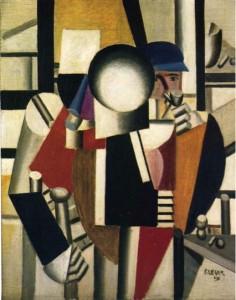 Painting
In the period that I visited the Stedelijk Museum I also came into contact with painting. In those early days I was very attracted to the paintings of Marc Chagall. I still don't know why, maybe because gaiety and sadness goes together in many of his paintings. The paintings of Max Ernst and Paul Klee made a big impression too. Later on I started to understand the work of Piet Mondriaan. There is an impressive collection of Mondriaan in the City Museum of The Hague, which is worth visiting. Pablo Picasso's Guernica hit me from the first moment. An exhibition of Fernand Léger in Berlin in the eighties impressed me deeply. The picture here is of the painting The Three Comrades by Fernand Léger.
One painting which has a lot of meaning for me meaningful painting for me is "Who's afraid of Red, Yellow and Blue" by Barnett Newman because this painting teaches me a lesson. It did take time before this painting gained some meaning for me. When I was fifteen, I regularly visited the Stedelijk Museum regularly to see photography exhibitions. This painting hung in the most honorable place of the museum, in the main hall and you inevitably had to look at it when you went up the stairs. I understood nothing of it and did not understand why this stupid painting deserved such a beautiful place. It was just a big red field with a yellow stripe and a blue stripe on the sides. Any child could make that. After eighteen months, I became a bit curious, because this stupid and weird painting was still there in such a beautiful place. At a certain moment I walked up to that picture, curious about its title. I remember I was standing about half a meter away from the painting when I read the title: "Who's afraid of Red, Yellow and Blue. A stupid title as well, I thought, until I looked up, half a meter in front of that giant canvas and the painting in front of me shouted all its colors at me and aroused fear and emotion. From that moment I understood the authenticity of this painting. This event has taught me to refrain from forming easy judgments and to start with an open mind and perceive, inquire and allow my senses to feel and understand. Much later, I read the statement by Barnett Newman: "Art is an adventure into an unknown world, which can only be explored by those willing to take the risks."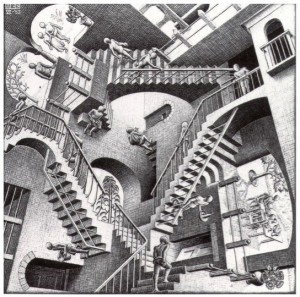 The graphic artist Escher has always appealed to me and still does. I know that as a boy of twelve I had bought a poster from my own savings and had stuck it on chipboard with wallpaper paste. It was the lithograph "Relativity". I'm actually still not sure why that graphic was so fascinating for me. I still use this lithograph in presentations as an image of a multiple reality. Other lithographs of Escher are intriguing as well, like Chaos or Meeting. For me "Chaos" represented for me the chaos theory whereby seemingly irrelevant objects create a new coherent reality. Meeting for me is about dealing with dilemmas.
Sometimes I visit the Escher Museum in The Hague with groups of executives and professionals and invite them to look at themselves through the lithographs which reflect the world of Escher, a different world to what they used to. In this way we create another learning experience with a lots of fun.
---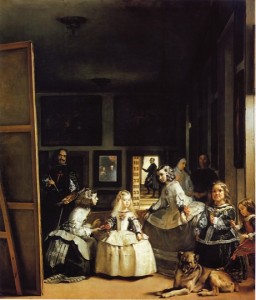 Spanish painters
Much later, when I was thirty years old and visiting Barcelona many times a year, I started to appreciate Spanish painters. Velázques is beautiful. The house of Joaquín Sorolla is a must for anyone going to Madrid. The Catalan painter Miró speaks to me through his simplicity. Picasso I understand a little better now and his interpretation of Las Meninas by Velásques is impressive because you never know who is looking at whom. You look at the painting as an observer, but maybe you are painted yourself. In more recent years, I have also been fascinated by the work of Antoni Tàpies. This artist has always had an eye for humanity, freedom and democracy. He experienced the importance of freedom personally, because in the Franco era he was in hiding for years and his paintings were banned. The Catalan desire for freedom is nowhere as powerfully as in the paintings and installations of Antoni Tàpies.
---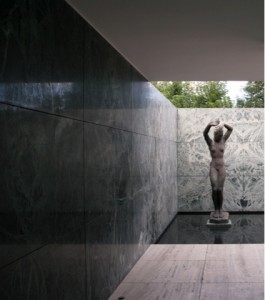 Architecture
I also enjoy modern architecture a lot.For me it it's especially a sense of beauty, light and space as in the Barcelona Pavilion by Mies van der Rohe or the architecture of Bauhaus architects and Dutch architects like Johan Duiker (Zonnestraal in Hilversum and Open air School in Amsterdam), Willem Marinus Dudok (Dudok House and Hoogovens IJmuiden), Gerrit Rietveld (Schröder House in Utrecht) and Aldo van Eyck, who built a beautiful house built on the Minerva Avenue in Amsterdam. Before the fall of the Berlin Wall, I went to Berlin regularly. I liked to visit the Bauhaus Museum there and the neighborhoods that were built by Bauhaus architects. Light, space and functionality are  combined beautifully in their designs.
When I look back on what appeals to me in all these places is the freedom, adventure, light and space.
---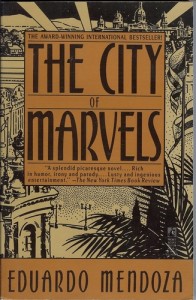 Literature
Literature and film meanly mean relaxation. I read mostly during holidays and I don't go to see that many films, although I really can enjoy the passion and emotion in movies. Literature and film are sometimes sources of inspiration because they invite me to look at reality with a different perspective. Sometimes they are a mirror to have a better look at yourself.
The 'City of Wonders' by the Catalan writer Eduardo Mendoza made a deep impression on me. I'm not sure why this book affected me, maybe because it's about Barcelona, a city that means a lot to me, maybe because it's about a crafty villager who amasses wealth and power, maybe because it's about day laborers, gangsters and politicians.
The 'Black with the White Heart' by Arthur Japin I also find beautiful and a source of inspiration when it comes to questions of identity, meaning and community. 'The Age of my Father' written by Geert Mak has taught me history about a period of industrialization and urbanization in Europe. 'The Office" by Voskuil is a must for anyone who works at a university, just like "Among Professors" by Willem Frederik Hermans. These books provide for reflection and a good laugh through the recognition of the university as a crazy institute.
'The Abyss'by Marguerite Yourcenar is a beautiful historical novel about Zeno, a physician, alchemist and philosopher at the beginning of the sixteenth century. The historical novels of Yourcenar can tempt me anyway. "One Hundred Years of Solitude" by Gabriel García Márquez and 'The Unbearable Lightness of Being" by Milan Kundera are also beautiful, like "Zen and the Art of Motorcycling by Robert Pirsig. More recently I read the books by Haruki Murakami. His book "Kafka on the Shore" is beautifully hilarious.
I can laugh with the books of Tom Lanoye, enjoy the lyrics of Oscar Wilde and the poems of Jean Cocteau and Hans Warren. Christopher Isherwood is a favorite from my youth and I read just about anything by him. His Berlin books appeal to me a lot. "The Swimming Pool Library" by Alan Hollinghurst is a beautiful and exciting story of a young gay with changing contacts who enters into friendship with an English lord. "A Heartbreaking Work of Staggering Genius" by Dave Eggers is intriguing and entertaining.
---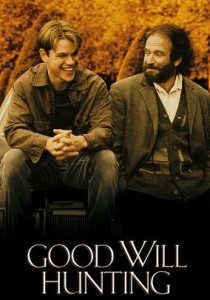 Movies
A film that I really remember is "Good Will Hunting" by Gus van Sant with Matt Damon in a beautiful role as tough kid and a wonderful role of Robin Williams as a psychotherapist. For me, this movie is about love and adventure and also about inner struggle and relating. Gus van Sant has made more beautiful films such as "My own private Idaho". This movie is about traveling as well. Wim Wenders makes beautiful films too. 'Der Himmel über Berlin is my favorite'.
Other significant films for me: "Being There" by Hal Ashby with a magnificent role of Peter Sellers as a gardener. "The Remains of the Day" by James Ivory with Anthony Hopkins as butler and "Death Poets Society'"by Peter Weir starring Robin Williams as an English professor who is engaged with his students and teaches them to find their own selves by teaching poetry. The film "Festen" by Thomas Vinterberg is a depressing and fascinating story of a family where many tensions remain subcutaneously until the son Christian start to discover past events and makes these publicly. The films of Jim Jarmusch can fascinate me as well. "Permanent Vacation" is clear in my mind, even though I saw that movie years ago. The film is about a boy in Manhattan. His father was never around and his mother is in the asylum. The boy wants to know more about life and the meaning of it. He discovers the meaning in life on his journey meeting many different people. "Stranger than Paradise" and "Down by Law" by Jim Jarmush are also exciting.
Classic movies, which have a lot to do with industrialization and urbanization, are "Metropolis" by Fritz Lang and "Modern Times" of Charlie Chaplin. I like to use both these films in lectures to illustrate the beginning of industrialization and urbanization.Inspiraties krijg ik van wandelen in de bergen, andere culturen, lezen en kunst zoals moderne dans, fotografie en architectuur. Deze inspiratiebronnen zijn terug te vinden in mijn werk als foto's in presentaties en verhalen.
---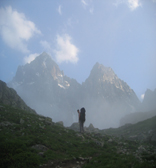 Hooggebergte
Elk jaar trek ik de bergen in. Wandelen in de bergen geeft me rust en tijd om te reflecteren op wat ik doe. Het wandelen houd me bovendien fit en ik geniet van de vergezichten, het stromende water en de wind. Bergtochten maak ik met Frank en dat doen we al meer dan dertig jaar. Noorwegen is ons favoriete land om tochten te lopen, al balen we soms behoorlijk van de regen daar. IJsland is ook prachtig, en koud. Dus na een paar keer Noord Europa gaan we dan weer naar de Franse en Italiaanse Alpen. Tour de Mont Blanc is prachtig en Tour de Mont Viso is rustig en minstens even mooi. De Pyreneeën en Dolomieten zijn lekker ruig. Ook de Himalaya is een gebergte dat me aanspreekt door de lokale Tibetaanse cultuur. De foto hiernaast is genomen in de Dolemieten.
---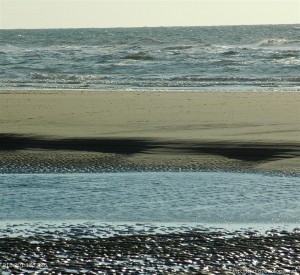 Zee
Naast lopen in de bergen vind ik het heerlijk om rustig op een eiland van de zon, de zee en de rust te genieten. De eilanden van Thailand met hun natuur, het stand en de heldere zee zijn een bron van rust. Het stand van Barcelona is prachtig en het is natuurlijk heerlijk dat ik gewoon naar zee kan lopen als ik in Barcelona ben. Grappig om eens goed te luisteren want de golven maken een heel ander geluid dan in Zandvoort. In Nederland kan ik ook genieten van het strand, de Kennemerduinen, de bossen bij Hilversum, de Veluwe en de heidevelden. Heerlijk om er op een zondag tussenuit te gaan om te wandelen of te fietsen. De zee is voor mij rustgevend door de weidsheid en de ruimte, zelfs als die ruig tekeer gaat.
---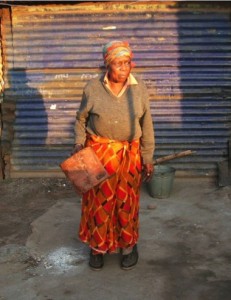 Andere culturen
Andere culturen leren me veel en zijn een inspiratiebron. De transformatie en spanningen in Zuid Afrika zijn voor mij uiterst leerzaam, de ontwikkelingen in Cuba vind ik erg boeiend en mijn ervaringen met hulpverleningsinstanties na de Tsunami in Sri Lanka zijn schokkend.
Spanje, of beter Catalunya, is voor mij ook een inspiratiebron. Ik droom ervan om nog eens naar Bhutan te gaan. Op het niveau van waarden ervaar ik veel overeenkomsten tussen Nederland en het gebied rond Barcelona: democratisch, progressief, geëngageerd, tolerant  en open naar andere culturen. Het leven zelf in Catalunya is net even anders; rustiger, socialer en intenser. Het is goed om te ervaren dat Spanje nog maar een jonge democratie is vanuit het besef dat die zwaar is bevochten in een burgeroorlog en de periode daarna. Veel van mijn Spaanse vrienden hebben in die tijd familieleden verloren.
---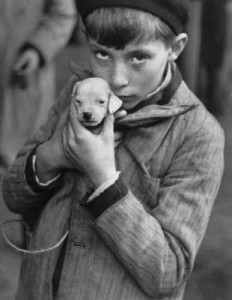 Fotografie
Voor mij is kunst vooral fotografie. Sinds mijn pubertijd heb ik belangstelling voor fotografie. Toen ik vijftien was en in Haarlem woonde, ging ik geregeld op de fiets naar het Stedelijk Museum in Amsterdam om daar foto's te gaan kijken. Zelf fotografeerde ik in die tijd ook enthousiast en het Stedelijk had in die tijd veel aandacht voor fotografie.
De foto's van André Kertesz maken nog steeds diepe indruk op me. Vaak gebruik ik ze in presentaties omdat zijn foto's beeldend zijn en tegelijkertijd ruimte geven voor eigen interpretatie. Ook Henri Cartier Bresson kan me diep raken met zijn fotografie. Zijn serie  "The inner silence of a willing victim" is heftig en indrukwekkend. De documentaire fotografie van de Magnum fotografen verbeelden een harde werkelijkheid in schoonheid. Hedendaagse Nederlandse topfotografen zijn voor mij Erwin Olav en Inez van Lamsweerde. De foto hiernaast is van André Kertesz.
---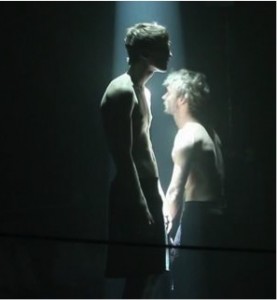 Moderne dans
Moderne dans verbeeldt voor mij schoonheid. De schoonheid van mooie lijven in beweging. Naar moderne dans ga ik al sinds mijn studietijd nadat ik bij toeval een voorstelling had gezien van Dansgroep Christina de Chatel. Toen was dat een uiterst vernieuwende dansgroep. De kwaliteit van het Nederlands Danstheater is verbluffend en dit gezelschap is terecht wereldberoemd. Tot de mooiste choreografieën behoren voor mij Simple Things en Monument for a Dead Boy van Hans van Manen. Voor beiden geldt dat ik nog steeds rillingen over mijn rug voel lopen als ik ze zie. Psalmensymphonie van Jiri Kilian vind ik indrukwekkend.
Het meest creatieve dansgezelschap in Nederland op dit moment is zonder twijfel Emio Greco|PC. Het is een eer om bij dit gezelschap lid te zijn van de raad van toezicht. De voorstelling Rocco heeft in 2012 de Zwaan gewonnen voor de beste dansproductie in dat jaar.
---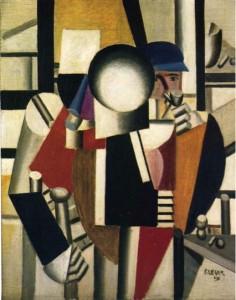 Schilderkunst
In de tijd dat ik het Stedelijk Museum bezocht kwam ik ook in aanraking met schilderkunst. In die eerste tijd werd ik erg aangetrokken door de schilderijen van Marc Chagall. Ik weet nog steeds niet waarom. Misschien omdat vrolijkheid en triestheid samengaan in veel van zijn schilderrijen. Ook de schilderijen van Max Ernst en Paul Klee maakten toen veel indruk. Later kwam daar ook het werk van Piet Mondriaan bij. Picasso ben ik pas later gaan begrijpen, alhoewel zijn Guernica mij vanaf het allereerste moment diep heeft aangegrepen. Van een tentoonstelling van Fernand Leger in Berlijn in de jaren tachtig was ik diep onder de indruk. Een affiche van die tentoonstelling heeft jarenlang op mijn kamer op de universiteit gehangen omdat het zo goed de arbeidende mens tot uitdrukking bracht. De foto hiernaast is van het schilderij The Three Comrades van Fernand Léger.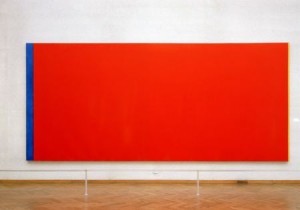 Een voor mij betekenisvol schilderij is 'Who is afraid of Red, Yellow and Blue' van Barnett Newman. Het heeft overigens wel even tijd gekost voordat dit schilderij betekenis voor me kreeg. Toen ik als vijftienjarige jongen geregeld het Stedelijk bezocht, hing dat schilderij op de meest eervolle plaats van het museum in de grote zaal en je keek er onvermijdelijk naar als je de trap opkwam. Ik begreep daar niets van, zo'n stom schilderij op zo'n mooie plek. Het was gewoon een groot rood veld met een streep geel en een streep blauw aan de zijkanten. Dat kon een kind toch ook maken. Na anderhalf jaar werd ik toch een beetje nieuwsgierig, want het was toch wel raar zo'n stom schilderij op zo'n mooie plek. Op enig moment ben ik naar dat schilderij gelopen, nieuwsgierig wat de titel was. Ik weet nog dat ik op een halve meter van het schilderij stond en de titel las: 'Who is afraid of Red, Yellow and Blue'. Nog een stomme titel ook, dacht ik nog, totdat ik omhoog keek, een halve meter voor dat reusachtige doek en het schilderij naar me schreeuwde, angst en emotie opriep en ik het schilderij echt gewaar werd. Deze gebeurtenis heeft me geleerd oordelen uit te stellen, waar te nemen, op onderzoek uit te gaan en gewaarwording toe te staan. Nog veel later las ik het statement van Barnett Newman: "Art is an adventure into an unknown world, which can only be explored by those willing to take the risks."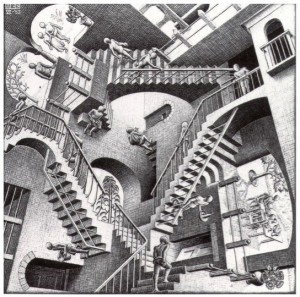 De grafisch kunstenaar Escher heeft me altijd aangesproken en doet dat nog steeds. Ik weet dat ik als jongen van twaalf een poster had gekocht van mijn spaargeld en die op spaanplaat had geplakt met behangerslijm. Het was de Litho "Relativiteit". Ik weet eigenlijk nog steeds niet goed waarom die plaat me toen zo fascineerde. Deze litho gebruik ik nog steeds in presentaties als beeld van een meervoudige werkelijkheid. Ook andere litho's van Escher zijn beeldend en intrigerend, zoals Chaos of Ontmoeting. Chaos verbeeld voor mij de chaos-theorie waarbij ogenschijnlijk niet ter zake doende objecten een nieuwe samenhangende werkelijkheid creëren. Ontmoeting gaat voor mij over het omgaan met dilemma's.
Soms bezoek ik met groepen het Escher Museum in Den Haag. Nog steeds beleef ik daar veel plezier aan.
---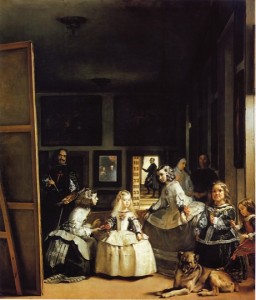 Spaanse schilders
Nog veel later, toen ik een jaar of dertig was en veel in Barcelona kwam, ben ik de Spaanse schilders gaan waarderen. Valasques is prachtig. Het huis van Joaquín Sorolla is een aanrader voor iedereen die naar Madrid gaat. De Catalaanse schilder Miro spreekt me aan door zijn eenvoud. Picasso snap ik inmiddels ook wat beter en zijn interpretatie van Las Meninas van Valasques is indrukwekkend omdat je niet weet wie nu eigenijk naar wie kijkt. Jij kijkt als toeschouwer naar het schilderij, maar misschien word jij wel zelf geschilderd. De laatste jaren ben ik ook geboeid door het werk van Antoni Tapies. Deze kunstenaar heeft altijd oog gehad voor onderdrukking en vrijheid. Dat heeft hij ook zelf ervaren, want in de Franco tijd heeft hij jarenlang ondergedoken gezeten en waren zijn schilderijen verboden. De Catalaanse vrijheidwens is nergens zo krachtig verbeeld als in de schilderijen en installaties van Tapies.
---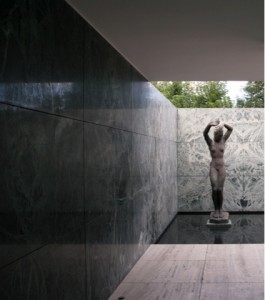 Architectuur
Ook van architectuur kan ik genieten. Het gaat me dan vooral om een gevoel van schoonheid, licht en ruimte zoals in het Barcelona Paviljoen van Mies van der Rohe of de architectuur van Bauhaus architecten en de Nederlandse architecten zoals Johannes Duiker (Zonnestraal te Hilversum en Openluchtschool in Amsterdam), Willem Marinus Dudok (Dudokhuis Hoogovens IJmuiden), Gerrit Rietveld (Schröderhuis in Utrecht) en Aldo van Eyck die een prachtig huis heeft gebouwd aan de Minervalaan in Amsterdam. Voor de val van de muur ging ik geregeld naar Berlijn. Daar bezocht ik graag het Bauhaus museum en de wijken die door Bauhaus architecten zijn gebouwd. Licht, ruimte, regelmaat spraken mij daarin aan.
Als ik zo terugkijk op wat me aanspreekt is het vrijheid, avontuur, licht en ruimte.
---
Literatuur
Literatuur en film zijn voor mij vooral ontspanning. Lezen doe ik vooral in de vakantie en aan film kom ik niet veel toe, hoewel ik er erg van kan genieten. Literatuur en film zijn soms inspiratiebronnen om anders naar de werkelijkheid te kijken, soms zijn ze een spiegel om beter naar jezelf te kijken.
De Stad der Wonderen van de Catalaanse schrijven Eduardo Mendoza heeft diepe indruk op me gemaakt. Ik weet niet precies waarom dit boek me heeft geraakt. Misschien omdat het over Barcelona gaat, een stad die voor mij veel betekenis heeft. Misschien omdat het gaat over een sluwe dorpeling die macht en rijkdom vergaart. Misschien omdat het gaat over dagloners, gangsters en politici.
De zwarte met het witte hart van Arthur Japin vind ik ook prachtig en een inspiratiebron als het gaat om vragen over identiteit, betekenis en gemeenschap. De eeuw van mijn vader van Geert Mak heeft me geschiedenis geleerd over een periode van industrialisatie en verstedelijking. Het Bureau van Voskuil is een must voor iedereen die aan een universiteit werkt, net zoals Onder professoren van Willem Frederik Hermans. Lachen om de herkenning met de verzuchting dat het kennelijk nog erger kan.
Hermetisch Zwart van Marguerite Yourcenar is een mooie historische roman en gaat over Zeno, een medicus, alchemist en filosoof aan het begin van de zestiende eeuw. De historische romans van Yourcenar kunnen me sowieso wel bekoren. Honderd jaar eenzaamheid van Gabriel Garcia Márquez en De ondragelijke lichtheid van het bestaan van Milan Kundera zijn eveneens prachtig. Meer recent lees ik graag de boeken van Haruki Murakami. Kafka aan het strand is hilarisch prachtig. Ook van de boeken van de Spaanse auteur Carloz Ruiz Zafon kan ik genieten.
Lachen kan ik met de boeken van Tom Lanoye, genieten van de teksten van Oscar Wilde en de gedichten van Jean Cocteau en Hans Warren. Van Christopher Isherwood heb ik in mijn jeugd zo ongeveer alles gelezen. Zijn Berlijn boeken spreken me aan. De boeken van Michel Houellebaecq vind ik fascinerend. De zwembadbibliotheek van Alan Hollinghurst is een mooi en opwindend verhaal van een jonge homosexueel met wisselende contacten die een vriendschap aangaat met een Engelse lord. Het boek Schijnbewegingen van Floortje Zwigtman is van een vergelijkbare opwindende pracht. Een hartverscheurend verhaal van duizelingwekkende genialiteit van Dave Eggers is intrigerend en vermakelijk. Een heel bijzonder boek is The "Lover and the Beloved" van Ramon Llull.
Van vrienden kreeg ik onlangs Vaslav van Arthur Japin en ik ben erg benieuwd naar dit werk. Ook kreeg ik de roman "Noem me bij jouw naam" van André Aciman en de gedichtenbundel "Einde en begin" van de Poolse dichteres Wislawa Szymborska.
---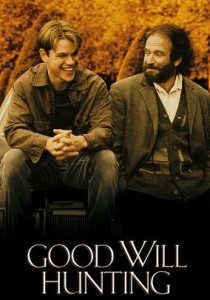 Film
Een film die mij erg is bijgebleven is Good Will Hunting van Gus van Sant met Matt Damon in de hoofdrol en een prachtige rol van Robin Williams als psychotherapeut. Deze film gaat voor mij over liefde en het avontuur aangaan, maar ook over innerlijke strijd. Al vroeg in de film zegt Sean, een psychotherapeut waar Will Hunting later onder behandeling komt, dat je als hulpverlener op het juiste moment moet doorgaan, op het moment dat iemand het zwakste is, dan kan je iemand raken door de juiste vragen te stellen". Hij zegt er dan niet bij dat het vaak ook betekent dat je iemand raakt en dat juist dat behoorlijk pijn doet, niet alleen bij de ander, ook bij jezelf.
Gus van Sant maakt meer mooie films, zoals My own private Idaho. Ook die gaat over reizen. Ook Wim Wenders maakt mooie films. Der Himmel über Berlin is mijn favoriet.
Andere betekenisvolle film voor mij zijn: Being There van Hal Ashby met een prachtige rol van Peter Sellers als tuinman, Remains of the day van James Ivory met Anthony Hopkins als butler en Death Poets Society van Peter Weir met Robin Williams als Engelse professor die zijn studenten liefde voor poëzie bijbrengt. De film Festen van Thomas Vinterberg is een beklemmend verhaal van een familie waar veel spanningen onderhuids blijven totdat zoon Christian zijn visie op gebeurtenissen uit het verleden publiekelijk maakt. De films van Jim Jarmusch kunnen me boeien. Permanent Vacation staat me helder voor ogen, ook al heb ik die film jaren geleden gezien. De film gaat over een jongen in Manhattan. Zijn vader is er nooit en zijn moeder zit in het gesticht. De jongen wil meer weten van het leven en wat voor zin het heeft en komt wat mensen tegen op zijn tocht. Stranger than Paradise en Down by Law zijn ook spannend.
Klassieke film die veel van doen hebben met industrialisatie en verstedelijking zijn natuurlijk Metropolis van Frits Lang en Modern Times van Charlie Chaplin. Beide films gebruik ik wel in colleges om het begin van industrialisatie en verstedelijking te illustreren.
Meneer Visser
Op mijn middelbare school heeft mijn leraar Nederlands, meneer Visser, mij naar film leren kijken. Eerst vond ik meneer Visser niet zo'n aardige man, zo streng en ingetogen. En het vak Nederlands was ook al niet mijn lievelingsvak. Hoe het kwam weet ik niet meer, maar op enig moment wilde meneer Visser na schooltijd wel film vertonen en bespreken voor leerlingen die dat wel leuk vonden. Meneer Visser bleek naast zijn bestaan als leraar filmrecensent te zijn van de NRC. De vertoningen en besprekingen waren geweldige middagen. Opeens was de leraar geen leraar meer, maar iemand die zijn passie wilde delen met jongeren. Ik heb genoten van de films Casablanca, Brief encounter en van Jack Nicholson in Profession Reporter. Ook de Nederlandse documentaires van Bert Haanstra (Bij de beesten af) en Joris Ivens (The Spanish Earth) hebben toen grote indruk gemaakt. Van de hedendaagse documentaire- en filmmakers spreekt Jos Stelling me erg aan. Ik was onder de indruk van De Wisselwachter. De smaak van water van Orlow Seunke is trouwens ook prachtig, net als Pervola, sporen in de sneeuw.